2022 MCN Annual Conference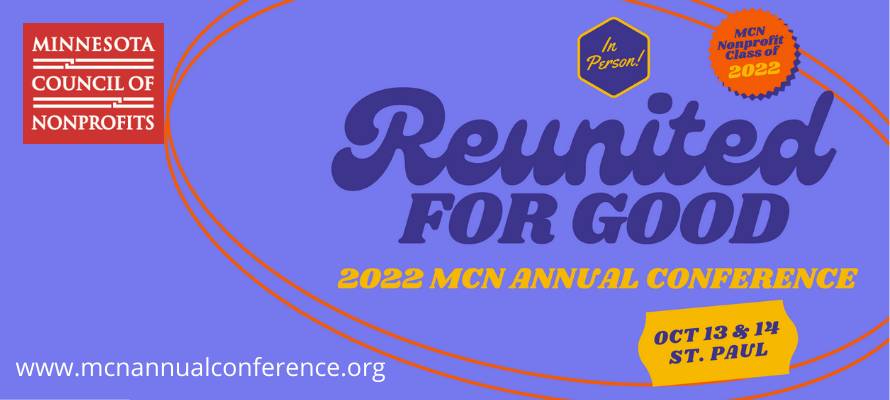 2022 MCN Annual Conference
Event Info
REUNITING FOR GOOD
How long has it been? While it's only been months or years for most, it feels as though decades have passed since we last gazed upon familiar faces, celebrated relationships (old and new), and talked about the highs and lows, lessons learned, and opportunities still to come.
No, this isn't your high school reunion we're talking about. It's time for Minnesota's nonprofit reunion!
Yes, Minnesota's largest annual nonprofit gathering is coming back in-person, and we hope you and your team can join us! The 2022 MCN Annual Conference marks the third iteration of MCN's beloved annual gathering that is taking place during a period of extremes. It is also the year we are coming back together, returning to in-person, after two years of virtually convening and trying to make sense of a world turned inside out.
We are "Reuniting for Good" as the collective of caring people that we are to share how we are doing, where we are going, and what we will need to thrive as we continue the demanding work to get there. We hope you'll join hundreds of nonprofit staff, board members, volunteers, and allies as we take part of two days of learning, networking, and celebration.
Are you ready to reunite?
Registration Information and Rates

Full Conference Rates
These rates include all scheduled conference events, starting with Round 1 Breakouts at 12:30 p.m. on Thursday through the end of day on Friday. Registration also includes Friday's Networking Lunch and Awards Ceremony.

MCN Member Rates
Super Saver Rate: $169 for MCN members only (by July 25)
Early Bird Rate: $189 for MCN members only (by September 2)
Standard Rate: $249 for members (by October 11)
Late/on site: $289 for members (after October 11)

MCN Nonmember Rates
Standard Rate: $299 for nonmembers (by October 11)
Late/on site: $339 for nonmembers (after October 11)

Pay What You Can (PWYC)
We encourage you to pay the registration rate that is meaningful to and possible for you. While earned revenue from our events is a significant portion of our operating budget, supporting the policy and advocacy work we do on behalf of nonprofits, we aim to keep our fees accessible, often below market rate, and offer further reduced entry points for those who need them to participate in professional development. If your participation is dependent on a PWYC rate, please register with the promo code that corresponds with your accessible price point below.

PWYC Rates
$69 (Code: PWYC69)
$89 (Code: PWYC89)
$109 (Code: PWYC109)
$129 (Code: PWYC129)

You will not be asked to complete an application to prove need. PWYC rates are the scholarship model for this year's Annual Conference. The rates are for individuals and do not apply to small and large-group registrations.

Small Team Rate - Register 3, Get 1 Free
Send more people from your organization and get more out of the conference. Register three people from the same organization at once and the fourth registration is free! To register online, one person will login to their MCN account and you will add colleagues to your group - your fourth colleague will be free! Visit our Events and Registration FAQ page (choose "How do I register multiple people?" from the FAQ options) for instructions on how to complete online group registrations. You may also download and use the PDF Registration Form.

Offer valid only with full-rate registrations. PWYC rates not eligible. Please email our help desk with any questions or issues during registration. (Small Team deadline: October 11)

Large Team Rate
Do you have more than four people from your organization to send to the conference? Register a group of up to ten people from the same organization at the following rates:
MCN Member Organization: $1,489
Nonmember Organization: $2,152

For groups of ten or more, please register via the PDF Registration Form. (Large Team deadline: October 11)

Conference Hours

Thursday, October 13: 12 - 5 p.m.
Friday, October 14: 8 a.m. - 4:30 p.m.

Exhibitor Information

The MCN Annual Conference is the perfect place for nonprofit professionals from all areas of work to discover the experts, products and services that can help their nonprofit save money, operate more efficiently and advance its mission.

Exhibit spaces are filling fast for the 2022 conference, so don't delay in exploring this unique opportunity to put your services and expertise in front of hundreds of Minnesota nonprofit professionals. If your company or organization is interested in joining this event as an exhibitor, please review our PDF exhibit packet or sign up online.

If you have any questions, please contact John Wurm, MCN membership & communications director, at jwurm@minnesotanonprofits.org.

Parking

Attendees are encouraged to park in the RiverCentre Parking Ramp which is located on Kellogg Boulevard and offers skyway access to Saint Paul RiverCentre.