Sep

10

, 2019
Xcel Energy Center and Saint Paul RiverCentre Celebrate a Decade of Sustainability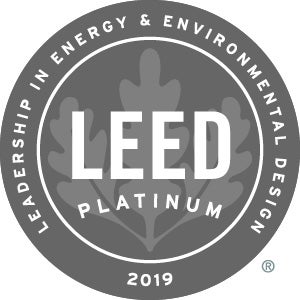 In October, Xcel Energy Center and Saint Paul RiverCentre will celebrate the 10-year anniversary of the launch of their unprecedented campus-wide sustainability program. In addition to reaching this significant milestone, the facilities also announced today that they have been awarded LEED Platinum Certification. The LEED (Leadership in Energy and Environmental Design) rating system, developed by the U.S. Green Building Council, is the foremost program for buildings, homes and communities that are designed, constructed, maintained and operated for improved environmental and human health performance. Xcel Energy Center is the first and only NHL building in the United States to be certified LEED Platinum for Building Operations and Maintenance, and Saint Paul RiverCentre is now one of only three convention centers in the United States to possess this same certification.
To reaffirm their commitment to sustainable practices, the Minnesota Wild also announced today that they have joined the United Nations Sports for Climate Action - an initiative aimed at supporting and guiding sports organizations and their stakeholders in achieving global climate change goals.
To celebrate the 10-year anniversary milestone, Xcel Energy Center, Saint Paul RiverCentre and the Minnesota Wild have a variety of initiatives planned, including:
10/10 Celebration:

At 10:10am on 10/10, staff will embark on a day of service, focusing on supporting the sustainability of the local communities, through storm drain adoption, urban farming, river clean up and more.

A new backlit display featuring LEED Platinum logo will be unveiled near the entrance of Xcel Energy Center and Saint Paul RiverCentre.

The Minnesota Wild will host a 'Green Night' on Monday, March 23, that will coincide with NHL Green™ - the League's month-long annual sustainability initiative. The Wild's 'Green Night' will feature sustainability themes during in-game elements, arena displays and fan contests.
On the 10th of every month, the organization's sustainability successes will be celebrated on the venues' social media accounts using the hashtag #LEEDbyExample.
On Oct. 5, 2009, Xcel Energy Center and Saint Paul RiverCentre formalized their goal to become a regional leader in sustainability by rolling out "50-50 in 2" - a collaborative effort to reduce the amount of trash generated across the campus by 50 percent while increasing the amount recycled to 50 percent within two years. By the two-year mark, the facilities had decreased the amount of trash generated by 59% and increased the recycling rate to 53%.
In the ten years that followed the launch of "50-50 in 2," several other sustainability initiatives and goals concerning energy, water, purchasing, air quality, community and transportation were implemented.
ENERGY: Xcel Energy Center and Saint Paul RiverCentre are the no. 4 purchaser of Windsource® energy in Minnesota.
WATER: Since 2015, staff have removed over 12,000 pounds of trash from the Mississippi River banks as part of their Adopt-A-River commitment.
PURCHASING: 82% of the venues' office product purchases meet sustainable criteria.
AIR QUALITY: Over 200 readings were taken throughout the building in 2018, verifying that it has excellent indoor air quality.
COMMUNITY: After all food shows, a facility GREEN TEAM works side-by-side with event exhibitors to properly collect leftover food either for compost or donation to the local community food shelves.
TRANSPORTATION: 40% of Xcel Energy Center and Saint Paul RiverCentre staff commute to work by bus, bike, carpool or an efficient vehicle.
"Over the past ten years our sustainability program has grown to become part of our culture," said Saint Paul RiverCentre General Manager and Minnesota Wild VP of Facility Administration Jim Ibister. "
I am incredibly proud of our organization's continued commitment to sustainability and dedication to have a lasting impact on the communities we serve."

Since 2009, Xcel Energy Center and Saint Paul RiverCentre have:
Recycled over 4,050 tons of material.
Composted over 2,665 tons (and donated 312 TONS of leftover food).
Generated over 12 million kWh of renewable energy on site, between District Energy's solar thermal panels and the photovoltaic panels on the parking ramp.
Purchased over 19 million kWh of wind power through Xcel Energy's Windsource® program.
Upgraded over 8,600 lights to more efficient technology.
For more information on Xcel Energy Center and Saint Paul RiverCentre's sustainability program, please visit their dedicated sustainability website.
.