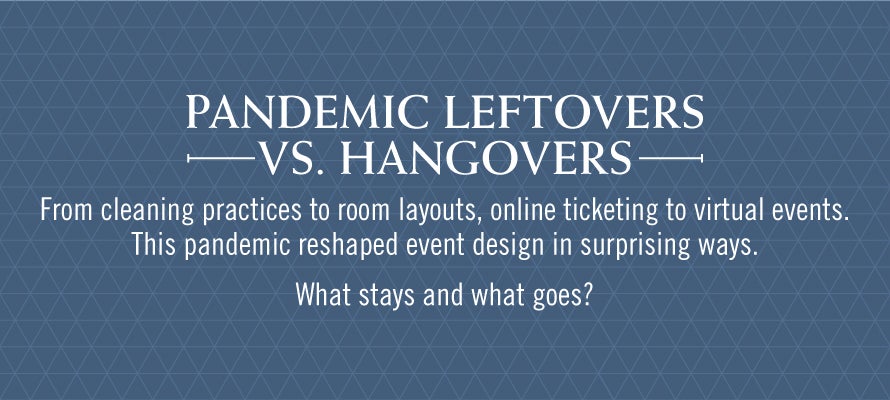 July

21

, 2021
Covid Leftovers vs. Hangovers
What Covid-related changes will your next in-person conference hold onto and what will you ditch?
Wow...we did it. We survived a pandemic that rocked every part of our hospitality industry. It forced all of us – planners, venues, suppliers – to reinvent the way we did business. This reinvention was filled with out-of-the-box creative ideas, slight tweaks to other best practices we already saw in motion, and even pulling a few ideas out of thin air and giving them a whirl. We set up testing sites and vaccine sites for our communities, we rallied together to support front-line workers and unemployed friends with meals and supplies, and we got creative about how to continue with events in wildly different ways...many of them while at our kitchen tables.
But we did it. We showed a resiliency many of us didn't know we had in us. And now we are coming out on the other side and re-evaluating what we want to keep doing and what we hope to never see again. Our team refers to these decisions as Covid leftovers and Covid hangovers. Everyone loves a good leftover, but hangovers…not so much. Those can go.
What Covid leftovers do we anticipate seeing at live events?
QR Codes: These certainly aren't new, but their resurgence made getting information into the hands of attendees much easier. We saw QR codes used for ticketing, registration, menus, mobile ordering and general information dissemination. We didn't have to worry about teaching people how to use them. If they went to a restaurant, chances are their menu was presented to them with a QR code.
Floor Plan Changes: Covid required us to space people out and use space differently. We re-evaluated aisle widths, booth layouts, conference seating and pre-function space. We carefully watched how people moved about spaces and how they queued up in lines. We expect future events to think more critically about how people use space and how they can design events for efficiency and comfort.
Audio Announcements: During Covid, clear communication was paramount to make sure everyone knew what was permitted. Signage was abundant…at times too much so. The phrase "nobody reads anything" was a legitimate concern, so recorded audio announcements were utilized for the non-readers in attendance. This element really rounded out the many communication tools, and planners even got creative with the style of their messaging, often inserting humor or event-themed quips into the scripts.
Mobile Ordering: Pre-Covid, many of us were focused on efficiency and removing any hassles for our guests, such as having to wait in lines. Who knew this elimination of lines would eventually be a requirement to do business? We expect having the ability to order services on an app to avoid waiting, whether it be for food, tickets or supplies, will stick around for years to come.
Contactless Services: During Covid, we became much more skilled at doing business in a contactless way. We implemented mobile ticket scanners so guests could just hold up their phones for entry. Our cash transactions were equipped with mobile pay options and our venue was set up in a manner to eliminate even touching a door handle to enter. Many of these options we expect to continue well into the future.
Clean = Safe: Public venues have always been concerned with being clean and ready, but this pandemic significantly changed the standards for cleanliness. Many of the Covid precautions we put in place will be with us for years to come, including automatic escalator handrail UV sterilizers, UV-C sterilizing equipment for shared items such as microphones, walkie-talkies, and laptops, and electrostatic sprayers that enable our staff to clean better and more efficiently.
So as your organizations emerge from this incredibly difficult time, pause for a moment to evaluate what Covid leftovers are worth making part of your future events. We're excited to see some of your ingenuity continue into the future.