St. Paul Area Chamber's 154th Annual Meeting presented by Xcel Energy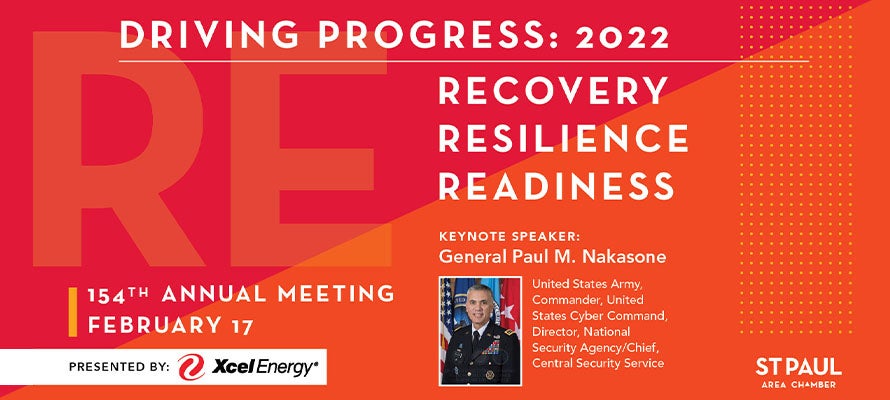 St. Paul Area Chamber's 154th Annual Meeting presented by Xcel Energy
Event Info
The Chamber's premier event of the year, presented by Xcel Energy, welcomes more than 700 members, guests, public officials and community leaders. You won't want to miss this opportunity to connect with one another as we celebrate our region's successes.
Keynote Speaker:
We are thrilled to announce that General Paul M. Nakasone, United States Army, Commander, United States Cyber Command, Director, National Security Agency/Chief, Central Security Service is coming home to Minnesota to share his insights about business recovery, resilience, and readiness. A native of White Bear Lake and a graduate of Saint John's University in Collegeville, where he first met our very own B Kyle, General Nakasone is one of the nation's foremost leaders in cybersecurity, and we are honored that he will be our featured speaker at the Chamber's biggest event of the year, presented by Xcel Energy.
We also will welcome our 2022 Board Chair, Marcia Droege of Land O'Lakes and celebrate the work of the St. Paul Area Chamber Foundation. The evening will wrap up with a drawing for the winners of our Really Big Time Raffle. Join us!
Program:
5:00 PM - Registration and Happy Hour Networking
6:00 PM - Program begins
6:30 PM - Dinner is served
7:00 PM - Keynote address
8:00 PM - Event concludes
COVID-19 Protocols

We are monitoring the impact of the COVID-19 variant and adjusting our events as needed, and following evolving state and local guidelines. As of right now, masks will be required at this indoor event when not eating or drinking. We will have masks and hand sanitizer on hand. Please stay home if you don't feel well, if you have symptoms of COVID-19, or if you have been in recent contact with someone diagnosed with COVID-19. Thank you.

Cancellation Policy

Cancellations should be made at least three days prior to the event in order to receive a refund. Cancellations may be made at any time if due to COVID-19.