MDH COVID-19 Testing Site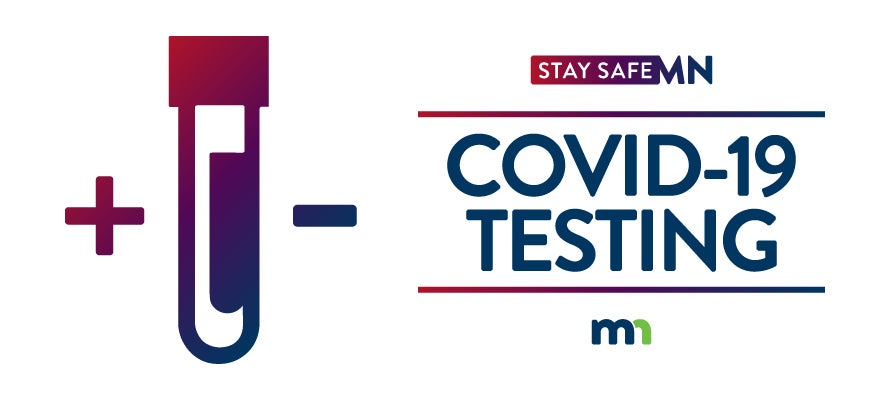 MDH COVID-19 Testing Site
Sep

27

/ Monday

11:00 AM

Sep

28

/ Tuesday

11:00 AM

Sep

29

/ Wednesday

11:00 AM

Sep

30

/ Thursday

11:00 AM

Oct

3

/ Sunday

11:00 AM

Oct

4

/ Monday

11:00 AM

Oct

5

/ Tuesday

11:00 AM

Oct

6

/ Wednesday

11:00 AM

Oct

7

/ Thursday

11:00 AM

Oct

10

/ Sunday

11:00 AM

Oct

11

/ Monday

11:00 AM

Oct

12

/ Tuesday

11:00 AM

Oct

13

/ Wednesday

11:00 AM
View All Showings
Event Info
The State of Minnesota saliva testing site at Roy Wilkins Exhibition Hall, adjacent to Saint Paul RiverCentre, will offer free saliva tests to any Minnesotan who believes they need to be tested.
When is the testing site open?

TESTING HOURS:

Sunday: 11 a.m. - 4 p.m.
Monday - Thursday: 11 a.m. - 6 p.m.
Friday - Saturday: closed

Where do I park?

Limited free parking is available at the RiverCentre Parking Ramp. Parkers must enter at the upper entrance to the parking ramp, located at 150 W. Kellogg Boulevard. Metered parking is also available by Rice Park.

Click here for a map to the RiverCentre Parking Ramp.

IMPORTANT PARKING INFORMATION:

Free parking is limited and is not available before or after scheduled testing hours each day.
The RiverCentre Parking Ramp is attached to Roy Wilkins Exhibition Hall but will require a 5-10 minute walk from the parking ramp to the testing site. For individuals with difficulty walking distances or varying elevations, it is recommended to consider ordering a COVID test by mail.

Which entrances do I use to access Roy Wilkins Exhibition Hall?

Can I do an at home test instead?

Yes. Minnesota is proud to offer at home COVID-19 saliva testing for any person who wants to be tested, with or without symptoms, at no cost. Visit Vault: No-Cost COVID Testing For All Minnesotans to order a test.

When you are ready to take the test, you will log in to access the Vault virtual waiting room and do a video visit with a Vault test supervisor. They can give you instructions and make sure you do the test the right way. You will then send the test to the lab in Oakdale, Minnesota, using the prepaid package. Once it arrives at the lab, you will get your test results by email in 24-48 hours.

Can I get an antibody test at this location?

No. The saliva test checks whether you have COVID-19 right now and can spread it to others. It is not an antibody test that looks for whether you have had COVID-19 in the past.

Who is eligible to get a test?

Both adults and children can use these tests. Saliva testing may not be right for those with low saliva production, such as children under age 4 or someone who has suffered a stroke.

Do I need insurance to get a test at this site?

No. This test is available regardless if you have insurance coverage or not.

If you do have insurance:
If you do have insurance, you will need to provide your insurance information so your insurance company can pay for your test. Please bring your insurance card to the test site.

If you do not have insurance:
If your insurance does not pay for COVID-19 tests or does not pay enough, the state will cover the cost. If you do not have insurance, the state will pay for your test. You will not receive a bill. For additional insurance questions, please refer to the Frequently Asked Questions about Testing Costs section of the State of Minnesota's Frequently Asked Questions about COVID-19 Testing.

Helpful Tips

Below are some helpful tips you may consider in regards to the COVID-19 saliva testing site at Saint Paul RiverCentre:

Do NOT eat, drink, smoke or chew gum 30 minutes before your test.
Restrooms are only available in an area that is accessible after you have finished your test. No public restrooms are available in the waiting line area.
If you are not able to sign up online or need an interpreter, call 855-612-0677 for assistance.
To request an Americans with Disabilities Act (ADA) accommodation or other accessibility needs for testing, please email

[email protected]

or call 855-612-0677 for assistance. Please make requests 2-3 business days before the testing event to ensure time to coordinate accommodations.

Visit the State of Minnesota's Frequently Asked Questions about COVID-19 Testing page for more helpful tips.