Land O'Lakes Kennel Club Dog Show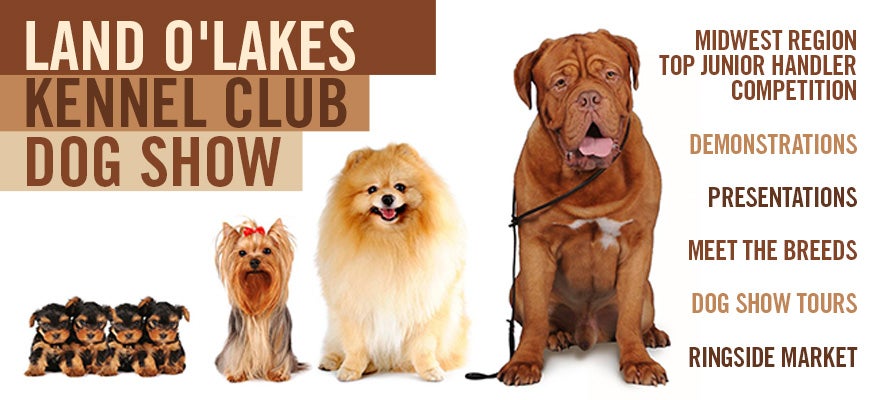 Land O'Lakes Kennel Club Dog Show
Event Info
More than 1,600 canines in 197 breeds will compete for American Kennel Club (AKC) awards when Land O'Lakes Kennel Club presents its annual Dog Show at Saint Paul RiverCentre Friday-Sunday, January 7-9.
The judging schedule can be found here.
American Kennel Club (AKC) "Puppy Party"
On Saturday and Sunday morning, owners of new puppies ages 4-6 months old are invited by AKC to enter a fun, interactive mock dog show geared strictly for puppies.
New This Year: AKC Reunite Photo Opportunity
AKC Reunite, the largest non-profit pet identification and recovery service provider in the United States, donated $75,000 to K-9 units at eight police departments across Minnesota. These canines will be photographed at the Dog Show with members of their corresponding police departments.
New Breed for 2022
The Russian Toy is a new breed eligible to compete and earn its first championship title as of January 1, 2022.
Meet the Breeds
Experts with a variety of breeds will be available on Saturday and Sunday. Attendees will have the opportunity to interact with experts on certain dog breeds and meet the breeds up close to learn more. Meet the breeds schedule can be found on landolakeskennelclub.org as the show weekend nears.
Unleashed Dog Expo
Open to all Dog Show attendees, the Unleashed Dog Expo features live demonstrations of a number of fun activities for you and your four-legged friends. From flyball to obedience, you'll be sure to learn about something new and exciting. Activities and demonstrations will be held in Roy Wilkins Auditorium on Saturday and Sunday from 10:30 a.m. to 3 p.m. Scheduled events include:
Action Dog
Agility Information & Presentation
Barnhunt Demonstration
Coursing Information
Earthdog Demonstration
Fast CAT Information
Flyball
Hunt Test
Obedience Presentation
Rally Information & Presentation
Sled Dog Presentation
Midwest Regional Junior Showmanship Competition
On Saturday, the future of the dog world will compete in a junior handling competition which recognizes young handlers from the entire Midwest area. The winner of the competition will be eligible to compete in the Royal Canine 2022 AKC National Championship Show in December 2022 in Orlando, FL.
Dog Show Tours
Dog show tours are one of the most popular activities at the Dog Show. Tours are available to spectators on Saturday and Sunday from 10:30 a.m. - 3 p.m. Tour guides will take guests around the show and explain the mechanics and activities involved in showing dogs.
Partners in Performance
On Saturday and Sunday, several non-profit organization and individuals will hold presentations covering a diverse range of topics including Assistance Dogs, Detection, Guide Dogs, Therapeutic Dogs and much more.
St. Paul Police K-9 Unit
A special demonstration put on by the St. Paul Police K-9 unit will occur on Saturday at 2 p.m.
Show Hours

Friday, January 7: 8 a.m. - 4 p.m.
Saturday, January 8: 8 a.m. - 6 p.m.
Sunday, January 9: 8 a.m. - 5 p.m.

Schedules for show times can be found here.

Ticket Prices

$10 - Adults
$5 - Children ages 5-12
$7 - Seniors (62+) and Veterans
$25 - Family Four Pack (2 adults and 2 children)
Children 4 and under admitted free of charge.

Tickets available online at Ticketmaster.com or at the door.

Face Coverings Required

Per the City of St. Paul Executive Emergency Order 2022-2, all guests attending events at Saint Paul RiverCentre and Roy Wilkins Auditorium will be required to wear a face covering at all times inside the buildings, except when eating or drinking. We will continue to comply with state and local guidelines in the best interests of health and safety. Please have patience with our staff as we help the City of St. Paul enforce the mandate.

COVID-19 Information

MASKS / FACE COVERINGS: Per the City of St. Paul Executive Emergency Order 2022-2, all guests attending events at Saint Paul RiverCentre and Roy Wilkins Auditorium will be required to wear a face covering at all times inside the buildings, except when eating or drinking. We will continue to comply with state and local guidelines in the best interests of health and safety. Please have patience with our staff as we help the City of St. Paul enforce the mandate.

HVAC / AIR FILTERS: Saint Paul RiverCentre uses upgraded air filters indoors.

HAND SANITIZERS: Hand sanitizer is available readily throughout the show floor.

TOUCHLESS ENTRY: Touchless ticket scanners are available for this event.

Parking

Attendees are encouraged to park in the RiverCentre Parking Ramp which is located on Kellogg Boulevard and offers skyway access to Saint Paul RiverCentre and Roy Wilkins Auditorium.

Exhibitor Information