Dec 8, 2014
Sportsmen's Show Returns to Saint Paul RiverCentre Jan. 8-11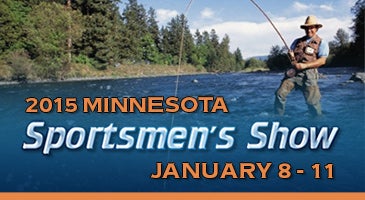 The 45th Annual Minnesota Sportsmen's Boat, Camping & Vacation Show, featuring the best of the great outdoors, returns to Saint Paul RiverCentre, Thursday through Sunday, January 8 - 11, 2015.
Hundreds of exhibits feature new model boats, RVs, motors, docks, marine electronics, fishing gear, and hunting and camping equipment. A wide variety of lodges, resorts, campgrounds and outfitters will be on hand to help plan that next vacation.
The Great Bear Show, the oldest and longest-running educational wild animal show in the country, returns to the Sportsmen's Show for the first time in several years. Trainer Bob Steele discusses bear behavior in the wild and in captivity while his black bears display their learned skills. Other features include Steve Porter's Trophy Whitetail, with three magnificent live bucks. Wolves, foxes, cougars and other live animals can be found at the Fur-Ever Wild display, which has become a Sportsmen's Show staple.
A host of well-known hunting and fishing pros offer free seminars every day. Outdoor TV show host Jason Mitchell appears Thursday and Friday, while walleye champion Tommy Skarlis is at the show on Saturday and Sunday. Outdoor writer Todd Amenrud offers his hunting advice on Thursday and Friday, while Billy Molls, "The Modern Day Mountain Man," shares his Alaska Big Game Hunting Adventures on Saturday and Sunday. Outdoorsman and TV personality Ron Schara hosts the special "Kids Fishing School" on Saturday and Sunday.
Admission to the Minnesota Sportsmen's Show is $9 for adults and $2.50 for children ages 6 to 12. Children 5 and under are free. The event is produced by Cenaiko Productions, Inc. of Minneapolis.