Nov 11, 2014
Largest Ice Fishing and Winter Sports Show in the U.S. Returns to Saint Paul RiverCentre Dec. 5-7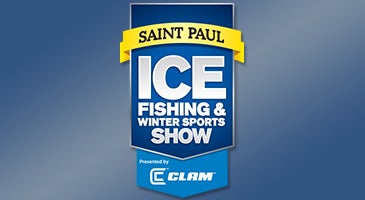 The 22nd annual St. Paul Ice Fishing & Winter Sports Show Presented by CLAM, returns to Saint Paul RiverCentre Dec. 5-7. The annual event attracts thousands of outdoor enthusiasts to discover the latest trends in ice fishing and winter sports. This year's event focuses on the next generation of ice fishing and emphasizes the importance of fostering interest in children.
Tickets for this year's show are $9 for adults, $4 for children between the ages of 6 and 12, and free for children ages 5 and under.
Attendees of the show will celebrate more than 20 years of ice fishing and have the chance to win various prizes including the Ultimate Ice Fishing Giveaway valued at more than $5,000. In addition, this year's show has exciting activities for the entire family including a Fillet Queen Contest, Ice Castle Fish House Giveaway and daily seminars. New this year is a Friday Date Night option for attendees, a bigger and better Kids Zone where they can learn about and partake in ice fishing fundamentals and a boot drive hosted by CLAM benefiting the Boys and Girls Club of the Twin Cities.
On Saturday, Dec. 6, the show will open for the first time at 8 a.m. to the general public, rather than 10 a.m. In previous years, the 8 to 10 a.m. time slot was reserved only for VIPs.
For more information on the 22nd Annual St. Paul Ice Fishing & Winter Sports Show, presented by Clam, visit StPaulIceFishingShow.com. For exclusive information and the chance for discounted entry, become a fan on Facebook and follow the show on Twitter.
About GS Media & Events
GS Media & Events (gsevents.com), a division of Good Sam Enterprises, LLC, owns and operates over 25 recreation-focused consumer shows throughout North America. The company currently produces RV & camping shows, boat & marine shows, and ice fishing shows.
GS Media & Events is the premier publishing, online, and face-to-face marketing company serving the outdoors enthusiast. By providing information, insights, and resources, GS Media & Events champions the fun, freedom, and adventure of recreational lifestyles, working to enhance consumers' experiences and building the communities that share and promote their passions.