Taste of the NFL's 27th Annual Party with a Purpose©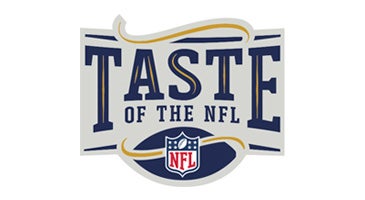 7:00 PM - 11:00 PM

27 years after the inaugural event, held at the 1992 Minnesota Super Bowl, Taste of the NFL's Party with a Purpose© will be held on Minnesota soil again. As Taste of the NFL's annual strolling wine and food event, Party with a Purpose features a chef from each NFL city serving their signature dish alongside a current or alumni NFL player. The result? 35+ food stations where guests can sample fine cuisine, meet and mingle with renowned chefs, NFL greats and celebrities, and participate in a silent auction with unique sports memorabilia and other exciting items.

Tickets: $700. Click here to purchase.

Ticket holders will have the opportunity to sample over 45,000 tastings from renowned chefs from the 32 NFL cities and mingle with current, Hall of Fame, and alumni players from each of the NFL franchises. The star-studded event features live musical entertainment from notable performers and gives guests the opportunity to meet with noteworthy celebrities. Attendees can also bid on over 250 unique sports and celebrity memorabilia, vacation packages and other coveted auction items.

Classic American rock band O.A.R. (Of A Revolution), presented by Delta Airlines, will perform at the 27th Annual Party with a Purpose. "I think this event will be very successful in raising money to help feed our hungry brothers and sisters," said Marc Roberge. "We're proud to be part of a celebration that will serve a greater purpose."

Notorious for performing intense and vibrant live shows, O.A.R. will close out the 27th Annual Party with a Purpose in what will be a celebratory night of eating, drinking and kicking hunger. With 13 albums, a string of Madison Square Garden sellouts, USO trips to Iraq and Kuwait, millions of albums sold, and shows around the world, O.A.R. continue to cover new ground creatively. The band is currently working on brand new music and will be touring across the United States this summer.

Taste of the NFL's Kick Hunger Challenge is a season-long fundraising campaign that pits fans from all 32 NFL markets against each other for a friendly competition to raise money for their favorite NFL team's local food bank. All proceeds raised by the teams' fans will directly benefit their communities. For more information or to donate to your favorite team/city, visit kickhungerchallenge.com.

Traffic Alert: Patrons coming to Saint Paul RiverCentre on Saturday, Feb. 3 should allow extra time and use alternate routes to avoid traffic congestion. Heavier traffic is expected due to several events taking place in downtown Saint Paul. Click here for more information.

Parking: Attendees are encouraged to park in the RiverCentre Parking Ramp which is located on Kellogg Boulevard and offers skyway access to Saint Paul RiverCentre. Click here for more information on parking and directions.