Star of the North Meeting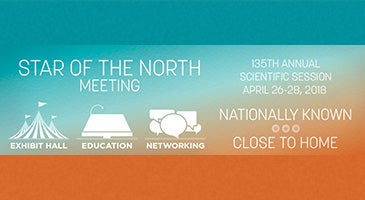 Thursday, April 26 - 8:00 AM - 8:00 PM
Friday, April 27 - 8:00 AM - 6:00 PM
Saturday, April 28 - 7:30 AM - 5:00 PM

The Minnesota Dental Association's Star of the North Meeting is the premier state dental meeting of the Upper Midwest. With over 90 continuing education seminars and an exhibit floor featuring over 250 innovative companies, the Star of the North Meeting provides current clinical and practice management information to the dental community.

Seminars will be offered Thursday, April 26 to Saturday, April 28. The exhibit floor will be open Thursday through Saturday.

An exclusive Exhibit Hall Buyer's Night will take place on Thursday, April 26 from 4:00 p.m. to 8:00 p.m. We are partnering with our exhibitors to offer exclusive "show specials" on Thursday night.

Join us on Friday, April 27 in Roy Wilkins Auditorium for The BIG Party featuring The Spazmatics and some awesome 80's sounds. We hope to see you there!

Entry to the meeting requires registration. This provides access to the tradeshow and all social events. Each continuing education course requires an additional ticket/fee. Click here to register.

Click here for exhibitor information or contact Vicki Capistrant at [email protected] or 612-767-4265.

Parking: Attendees are encouraged to park in the RiverCentre Parking Ramp which is located on Kellogg Boulevard and offers skyway access to Saint Paul RiverCentre and Roy Wilkins Auditorium. Click here for more information on parking and directions.