PMI-MN Professional Development Days 2018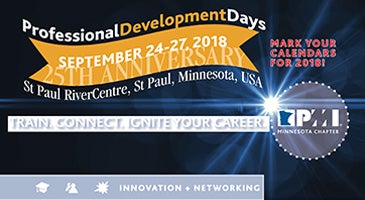 Education Days - Monday-Wednesday, September 24-26
Symposium Day - Thursday, September 27

Professional Development Days (PDD) is PMI-MN's signature four-day conference for project professionals. In 2018 we are excited to be celebrating 25 years of continuous PDD excellence with our attendees. Over the four days, dynamic and motivating speakers deliver in-depth training to expand skill sets, as well as high level presentations on hot topics relevant to today and tomorrow's project management and overall professional practices.

We plan to offer three Education Days of professional courses, and a single Symposium Day as a multi‑track selection of 25 or more one-hour sessions together with a Vendor Fair to meet organizations serving the project management community.

PMI-MN PDD offers the following benefits:
Practical techniques for effective project management
Skills for adapting today's teams for the changing business landscape
Certification preparation boot camp
Three nightly Networking events with peers -- strengthen existing relationships and create new opportunities
Options from over 150 PDUs to maintain certifications

2018 PMI-MN PDD pricing remains the same as 2017 PMI-MN PDD. Early Bird registration begins the last week in May 2018. Click here to register.

Vendor registration for Symposium Day booths and other partner/sponsor opportunities are available. Contact Caryn Donly and Harry Spinks for more information.

Parking: Attendees are encouraged to park in the RiverCentre Parking Ramp which is located on Kellogg Boulevard and offers skyway access to Saint Paul RiverCentre. Click here for more information on parking and directions.
Add To Calendar
Monday, September 24, 2018

TBA

Tuesday, September 25, 2018

TBA

Wednesday, September 26, 2018

TBA

Thursday, September 27, 2018

TBA