MPGC's 41st Annual Conference & Brisk Walk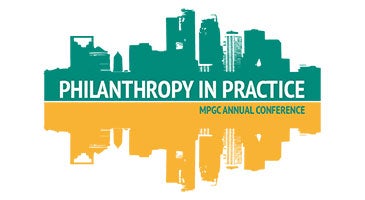 Tuesday, Nov. 14 - 8:00 AM - 4:30 PM
Wednesday, Nov. 15 - 7:30 AM - 4:00 PM
Thursday, Nov. 16 - 7:30 AM - 4:00 PM

MPGC is the professional association for people whose work includes developing, marketing and administering charitable planned gifts. Our members include fund-raisers for nonprofit organizations and institutions as well as consultants and professional advisors working in a variety of profit settings.

We are a nonprofit organization dedicated to the education and training of planned giving specialists, fund-raisers and professional advisors, and to raising public awareness of charitable giving overall and planned giving specifically. Members participate in seminars, conferences, presentations, research, publishing and similar activities in the field of gift planning. Our meetings facilitate communication and networking processes between members and other experts in the financial planning and development fields.

The Minnesota Planned Giving Conference is the best opportunity for visibility in the upper Midwest planned giving community. The conference typically attracts approximately 300 development professionals, including planned giving professionals, attorneys, financial planners, accountants, and trust officers representing more than 150 organizations from across the country.

We work hard to make sure that attendees have every opportunity to learn about and meet you. The timing and placement of breakout sessions, receptions, and meals—as well as recognition from the podium and "meet our sponsor" activities—are just a few of the ways that conference attendees are encouraged to connect with you. Additionally, there are no scheduled events Wednesday evening. This provides you with an opportunity to meet with clients or prospective clients over dinner.

Click here to register.

We invite you to take advantage of this terrific opportunity. Event sponsors and exhibitors are selected on a first-come, first-served, and space-available basis. Preference of space will be determined by level of sponsorship. As always, every effort is made to ensure your choice of sponsorship level and exhibit space. Because sponsorships and exhibit space fill quickly, we encourage you to respond soon.

Click here for sponsor and exhibitor information.

Construction Alert: West 7th Street between 5th Street and St. Peter St. will be under construction Monday, Nov. 13 through Saturday, Nov. 25. Please allow extra time to drive and park and use alternate routes if possible.

Parking: Attendees are encouraged to park in the RiverCentre Parking Ramp which is located on Kellogg Boulevard and offers skyway access to Saint Paul RiverCentre. Click here for more information on parking and directions.