MNAFP Annual Conference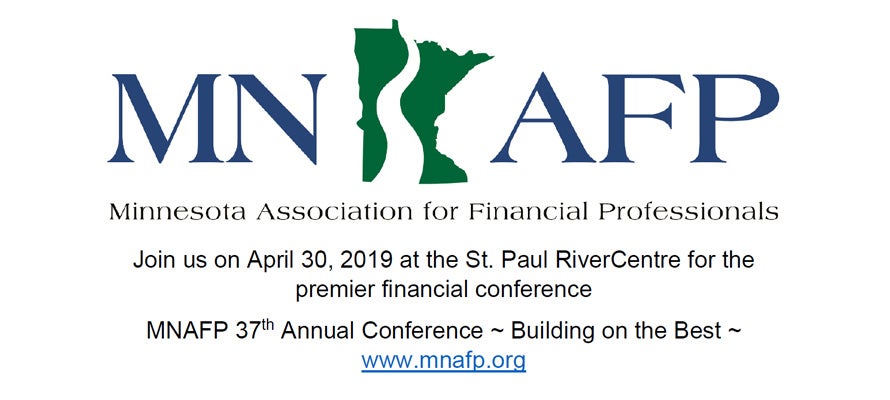 MNAFP Annual Conference
Event Info
MNAFP'S ANNUAL CONFERENCE - BUILDING ON THE BEST
7:00 AM to 6:00 PM

The Minnesota Association for Financial Professionals (MNAFP) hosts an annual conference that is a critical gathering place for treasury, investment, banking and finance professionals to stay abreast of the latest advances and techniques in their fields.
The MNAFP Annual Conference offers a solid, world-class program of sessions covering key issues that are relevant in today's economy. Learn best practices and the latest developments affecting our industries from top treasury and finance professionals. Our conference provides a wide array of subject matter with dynamic and timely speakers. The 2019 Conference will offer 7 session tracks and 35 sessions, along with a breakfast session.
Topic areas for 2019:
Corporate Finance/FP&A
Risk Management
Capital Markets and Investements
Global Treasury & Tax
Payments
Treasury Management
Toolbox
Our conference attendees meet face-to-face with knowledgeable industry leaders and service providers and were able to learn about a variety of products and services designed to help them better manage treasury, cash management, investment and other finance functions.
MNAFP's 37th Annual Conference – BUILDING ON THE BEST for Treasury and Finance Professionals. Our conference is acclaimed as one of the leading Treasury/Financial Management conferences in the country. Attendees come from across the country to unite through education, collaboration of ideas and dialog between colleagues. Strategize with more than 550 corporate treasury, investment banking and finance professionals at our 2019 Conference.
2019 Conference Pricing

Early Bird by March 20
MEMBER: $240/$185*
NON-MEMBERS: $315/$260*

Regular by April 12
MEMBER: $290/$210*
NON-MEMBERS: $365/$285*

Late after April 12
MEMBER: $340/$210*
NON-MEMBERS: $415/$285*

ONSITE REGISTRATION
MEMBER: $390/$260*
NON-MEMBERS: $465/$335*

*Half day registration - price includes lunch/conference materials.

Exhibitor Information

Parking

Attendees are encouraged to park in the RiverCentre Parking Ramp which is located on Kellogg Boulevard and offers skyway access to Saint Paul RiverCentre.