MnAEYC-MnSACA Annual State Conference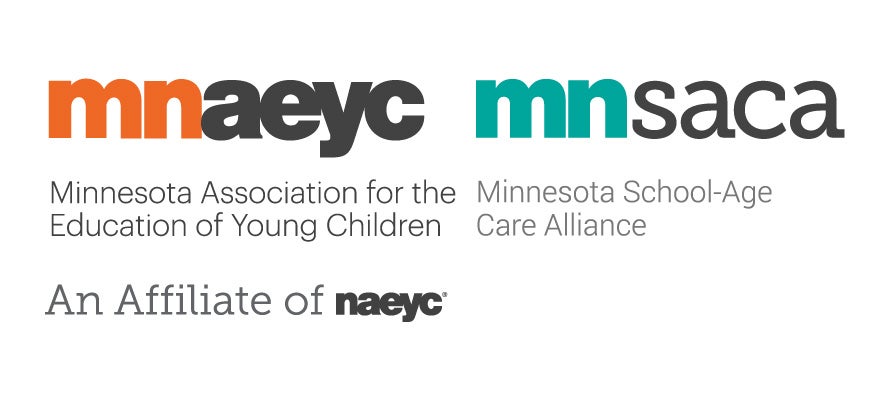 MnAEYC-MnSACA Annual State Conference
Event Info
Friday, January 31 - 7 a.m. - 5 p.m.
Saturday, February 1 - 7 a.m. - 4 p.m.
mnaeyc-mnsaca.org/page/annual_conference
Join your friends and colleagues at this premier conference for early childhood and afterschool professionals on January 31-February 1, 2020 at Saint Paul RiverCentre.
Our state conference is your annual opportunity to connect, lead and engage alongside colleagues from many sectors of early childhood and afterschool work in Minnesota. This year we have an excellent selection of sessions to choose from that reflect our dedication to supporting professionals and enhancing the quality of programs for children, youth, and their families.
On Friday, we welcome Dr. Heather Von Bank, Associate Professor in the Department of Family Consumer Science at Minnesota State University-Mankato, who will talk about the importance of play across the lifespan for children's and adults' physical, mental, and social-emotional development.
On Saturday, we welcome Jessica Davis, 2019 Minnesota State Teacher of the Year, who will talk about what deliberate and intentional equity is and how we all can infuse this in our daily work, too.
In addition to these powerful keynote sessions, we've filled each day with more than 60 timely, educational, and thought-provoking breakout sessions designed just for you.
We've listened to your feedback for more networking opportunities and back this year on Friday only are Table Talk Sessions, where you can engage informally with your fellow colleagues on a topic of interest. There are also Poster Sessions, so you can learn from your fellow colleagues who have done interesting work in the field.
You are guaranteed to leave with a number of new ideas you can implement in your program immediately, plus an expanded circle of peers and insights to help you grow professionally now and into the future.
Ticket Information

Exhibitor Information

Parking

Attendees are encouraged to park in the RiverCentre Parking Ramp which is located on Kellogg Boulevard and offers skyway access to Saint Paul RiverCentre.