MMGMA Winter Conference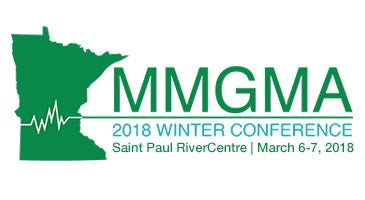 Tuesday, March 6 - 11:15 AM - 5:30 PM
Wednesday, March 7 - 8:30 AM - 3:15 PM

The Minnesota Medical Group Management Association (MMGMA) is dedicated to supporting medical practices in improving the health status of the community and their patients. This is accomplished by promoting and enhancing networking, knowledge and skills necessary to thrive in the healthcare arena. In addition, MMGMA advocates with the legislative and regulatory bodies to advance the concept of group practice within the healthcare delivery system.

We are very excited about the 2018 MMGMA Winter Conference and sincerely hope you can join us! For two days in March, we will gather at Saint Paul RiverCentre to learn new concepts, reconnect with colleagues and friends, make new acquaintances and become energized with new perspectives, connections and insights.

We have a dynamic line-up of speakers at the conference this winter! Lou Carbone, Founder and Chief Experience Officer at ExperienceEngineering will get us fired up about creating exceptional customer experiences on our first day, and James Hereford, the new President/CEO of Fairview Health Services, will discuss innovation and the forces that will shape healthcare in Minnesota during the next decade.

We will be offering breakout sessions on both days in three tracks: Human Resources/Marketing, Finance/Revenue Cycle and Information Systems. We encourage you to invite managers from your organizations who have responsibility for these areas to join us. Your conference will start with the popular "Morning at the Capitol" on Tuesday, March 6. It is a great opportunity for you to meet, often one-on-one, with elected officials from your districts who can make a big difference in how care is provided to the patients we serve. Make time to share your insights and concerns.

Do yourself and your organization a favor by registering online now for the 2018 Winter Conference at mmgma.org. Your colleagues on the MMGMA Conference Committee have been working hard to bring you a top-notch event – with great educational sessions, plenty of networking opportunities, laughs and pleasant surprises.

Can't wait to see you at the best MMGMA Winter Conference yet this March in St. Paul!

Click here to register. Best value on or before February 5.

Click here for exhibitor information.

Parking: Attendees are encouraged to park in the RiverCentre Parking Ramp which is located on Kellogg Boulevard and offers skyway access to Saint Paul RiverCentre. Click here for more information on parking and directions.