Midwest Health Promotion Conference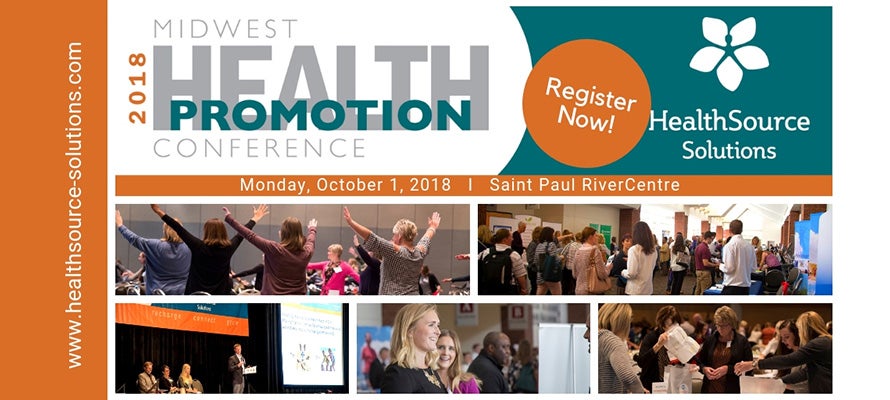 Midwest Health Promotion Conference
Event Info
7:15 AM - 4:00 PM

The annual Midwest Health Promotion Conference hosts professionals, students and volunteers responsible for employee health to network, share ideas and discover solutions to today's challenges. Here you'll have access to a large gathering of your peers. People who you can relate to, learn from, and actively contribute to the best thinking in worksite health promotion.

The 2018 Midwest Health Promotion Conference theme is inspired by the book Silent Impact: Stories of Influence through Purpose, Persistence & Passion by keynote speaker, Joe Schmit. Click here to view a video from Joe Schmit.

Purpose, Persistence & Passion are three great words that describe why we do what we do to help others thrive!

Why wellness?
• Purpose: helping guide life decisions, influence behavior and shape goals that create meaning in someone's life
• Persistence: continuing to do something and not give up, even though it may be difficult
• Passion: the driving enthusiasm that comes from something you love

Don't miss being part of this great event! RECHARGE your passion by CONNECTING with like-minded people, sharing ideas, discovering solutions, and learning new ways to GROW your wellbeing offerings. You deserve one day to focus on your company's wellbeing while enriching your own!
Registration Information

Conference fee also includes syllabus, light breakfast and lunch.

Participant: $215
Group (5+): $205 ea
Student: $80

Online registration ends Monday, September 24, 2018.

Sponsor and Exhibitor Information

Parking