Land O'Lakes Kennel Club Dog Show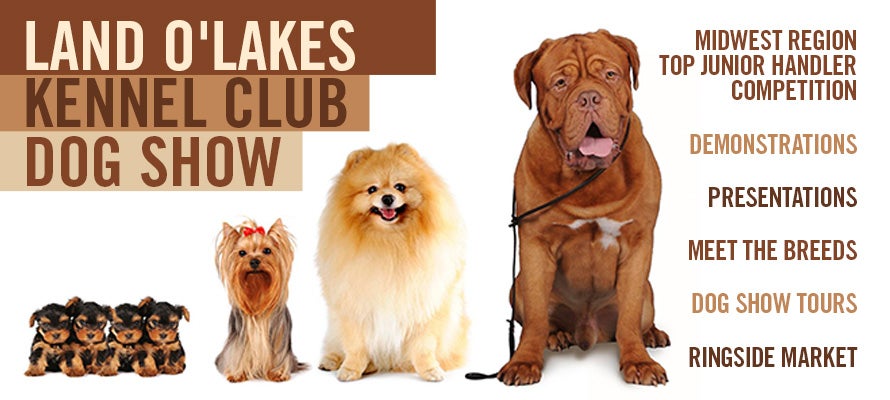 Land O'Lakes Kennel Club Dog Show
Event Info
Come to Saint Paul RiverCentre and spend your weekend with over 1,600 dogs competing for Best in Show honors. 103 breeds will be eligible to compete for American Kennel Club (AKC) awards when Land O'Lakes Kennel Club presents its annual Dog Show from Friday-Sunday, Jan. 4-6. Schedules for show times will be posted on landolakeskennelclub.org as the show weekend nears.

New Breeds for 2019
The Azawakh is eligible to compete and earn their first championship titles as of January 1, 2019.

Midwest Regional Junior Showmanship Competition
On Saturday, the future of the dog world will compete in a junior handling competition which recognizes young handlers from the entire Midwest area. The winner of the competition will be eligible to compete in the Royal Canin 2019 AKC National Championship Show, held in Orlando in December 2019.

Dog Show Tours
Dog Show tours are one of the most popular activities at the Land O'Lakes Dog Show. Tours are available to all spectators on Friday and Saturday from 10:30 a.m. to 3 p.m. Tour Guides will take you around the show and explain the mechanics and activities involved in showing.

Unleashed 3.0 DOG EXPO
Open to all 2019 Land O'Lakes Dog Show attendees, the Unleashed 3.0 Dog Expo features live demonstrations of a number of fun activities for you and your four-legged friends. From agility to skijoring and barn hunting to dock diving, you'll be sure to discover something new and exciting. Activities will be held in Roy Wilkins Auditorium on all three days from 10:30 a.m. to 3:00 p.m.

Scheduled events include: Flyball, Disc Dog, Rally, Barnhunt, Obedience, Shed Dog Hunting, Earthdog, Shed hunting, Agility, Action dog, Point breeds hunt test, Scentwork, Coursing, Carting, Pointing breeds field trial, Trick dog, Skijoring, Drafting, Freestyle dancing, Retriever training, Sled dog and Dock diving

Partners in Performance
On Jan. 4-6 in the rotunda, non-profit organizations and individuals will hold presentations covering a diverse range of topics, such as Adoption Resources, Special Needs Therapy Dogs, Police Dogs, Reading Assistance Dogs and much more on Saturday and Sunday.

St. Paul Police K-9 Unit
A special detection demonstration put on by the St. Paul Police K-9 unit will occur Saturday afternoon at the show.

AKC FSS Open Show
Each day at noon, rare breeds and new breeds working toward full AKC recognition are invited to participate in conformation judging.
Event Times

Friday, Jan. 4 - 8 a.m. - 6 p.m.
Saturday, Jan. 5 - 8 a.m. - 6 p.m.
Sunday, Jan. 6 - 8 a.m. - 6 p.m.

Times/schedules will be posted at landolakeskennelclub.org as they become available.

Ticket Prices

Adults: $9
Children 12 and under: $5
Children 4 and under: Free
Senior Citizens and Veterans: $7
Family Pack: $23 (2 adults and 2 children)
Pre-entered dogs only are allowed.

Parking

Attendees are encouraged to park in the RiverCentre Parking Ramp which is located on Kellogg Boulevard and offers skyway access to Saint Paul RiverCentre. Click here for more information.