39th Annual Minnesota Home & Patio Show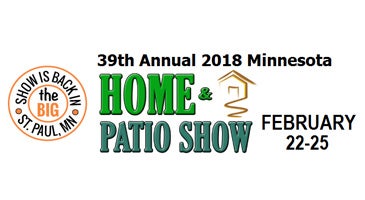 The year's greatest expo of interior, exterior, patio, landscape, and home improvement products and services is back at Saint Paul RiverCentre!

The annual Minnesota Home & Patio Show is one of the largest home improvement expositions in the nation, attracting tens of thousands of visitors each year.

The show features hundreds of exhibitors from across the country displaying and demonstrating the latest in home improvement, remodeling, decorating, gardening, landscaping, lawn care and more. We will have celebrity appearances including Katie Chin, daughter of famous restauranteur Leeann Chin, along with DIY, gardening, and cooking seminars, as well as live demonstrations throughout the four-day extravaganza.

Have a project in mind? The region's top experts are conveniently gathered under one roof at the Home & Patio Show ready to help make your dream a reality.

More information can be found at homeandpatioshow.com. We'll see you at the show!

Event Schedule:
Thursday, February 22 - 2:00 PM - 8:00 PM
Friday, February 23 - 12:00 PM - 8:00 PM
Saturday, February 24 - 10:00 AM - 8:00 PM
Sunday, February 25 - 10:00 AM - 5:00 PM

Admission:
Adults: $9.00
Children 6-12: $2.50
Children 5 and under: Free
Discount coupon available at homeandpatioshow.com.

Go online and submit the web exhibitor application form either by this link or visit the show webpage and find the link to the Exhibitor Page.

Parking: Attendees are encouraged to park in the RiverCentre Parking Ramp which is located on Kellogg Boulevard and offers skyway access to Saint Paul RiverCentre and Roy Wilkins Auditorium. Click here for more information on parking and directions.