25th Annual Saint Paul Ice Fishing & Winter Sports Show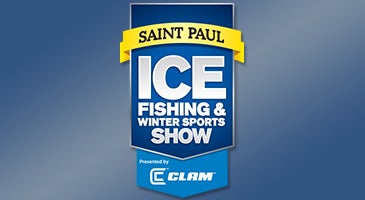 Friday, Dec. 1 - 11 a.m. - 1 p.m. (VIP preview)
Friday, Dec. 1 - 1 p.m. - 8 p.m.
Saturday, Dec. 2 - 8 a.m. - 10 a.m. (VIP preview)
Saturday, Dec. 2 - 10 a.m. - 7 p.m.
Sunday, Dec. 3 - 9 a.m. - 4 p.m.

stpaulicefishingshow.com

Join us at Saint Paul RiverCentre to shop more than 190 exhibits with products and services dedicated to the die-hard ice fishing and winter sports enthusiast. View new ice fishing products, including fish houses, augers, underwater cameras, digital fish finders, rods, reels, tackle, accessories, apparel and much more!

The show will feature all new merchandise at a variety of price points to fit any budget. Whether you are an avid fisherman looking for a few new accessories, an experienced angler in need of an upgrade or totally new to the ice fishing scene, you will find what you are looking for at this show.

2017 marks our 25th Anniversary! Don't miss this event - it will be bigger and better than ever!

Tickets:
Adults: $12
Kids 6-12: $5
Kids 5 & Under: Free
VIP Preview Tickets: $18

For exhibitor information, please call Ryan Reinke at 612-695-3219 or visit stpaulicefishingshow.com.

Parking: Attendees are encouraged to park in the RiverCentre Parking Ramp which is located on Kellogg Boulevard and offers skyway access to Saint Paul RiverCentre and Roy Wilkins Auditorium. Click here for more information on parking and directions.