2019 Nonprofit Communications and Technology Conference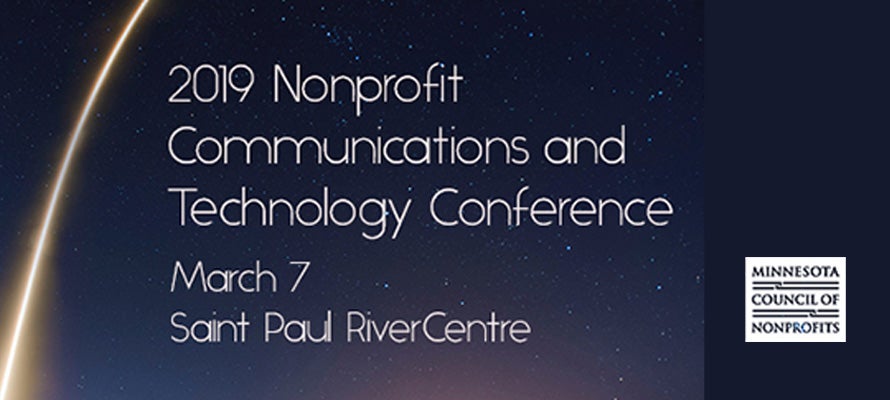 2019 Nonprofit Communications and Technology Conference
Event Info
Thursday, March 7, 2019
8 a.m. - 4:45 p.m.

Nonprofits have innovation in our DNA. We're always looking for a creative way to communicate an idea, to launch a new product, to reach a new audience, or to boost productivity and efficiency. Our communications and technology systems need to be agile, cutting-edge, and innovative – while at the same time being smart with our resources. Nonprofits are always finding new ways to balance the legacy of our communities with the vision of tomorrow's technologies.

The 2019 Nonprofit Communications and Technology Conference is the place to focus your lasers on the latest and greatest in all things nonprofit communications and tech. Join the conference to engage in conversations about digital design, cybersecurity, content strategy, social media, online fundraising, and so much more! Get ready to propel your nonprofit further and faster in 2019.
Sponsor and Exhibitor Information

With more than 700 nonprofit communicators, techies, and decision makers expected at this year's conference, there is no better opportunity to let nonprofits know how your product or service can help them meet their mission in 2019 and beyond. Reserve your space today!

For more information on exhibiting at the 2019 Nonprofit Communications and Technology Conference, contact John Wurm, MCN Membership & Communications Director.

Parking

Attendees are encouraged to park in the RiverCentre Parking Ramp which is located on Kellogg Boulevard and offers skyway access to Saint Paul RiverCentre. Click here for more information.