2018 MnAEYC-MnSACA ANNUAL STATE CONFERENCE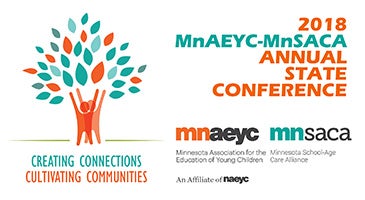 Friday, March 9 - 7 AM - 5 PM
Saturday, March 10 - 7 AM - 5 PM

Join your friends and colleagues at this premier conference for early childhood and afterschool professionals, as we Create Connections and Cultivate Communities.

Our annual state conference is your annual opportunity to connect, lead and engage alongside colleagues from many sectors of early childhood and afterschool work in Minnesota. This year we have an excellent selection of workshops to choose from that reflect our dedication to supporting professionals and enhancing the quality of programs for children, youth, and their families. We encourage you to be open; to be vulnerable; to ask questions; to challenge your own assumptions; to bring your stories.

On Friday, we welcome Dr. Artika Tyner, Associate Vice President of Diversity and Inclusion, University of St. Thomas. As a passionate educator, author, and advocate for justice, Dr. Tyner is committed to empowering others to lead within their respective spheres of influence. Her keynote address will provide participants with the motivation and inspiration needed to advance social change. Drawing upon her scholarly research and professional experience, Dr. Tyner offers practical guidance for attendees to embrace their unique leadership qualities, foster their leadership development, and make a difference in the world.

On Saturday we welcome Sasha Aslanian, veteran journalist and creator of the Young Reporters project for MPR News. She will play clips of what happened when she gave microphones to young people and invited them to tell stories that mattered to them. This keynote will examine why such intimate stories move us so profoundly and help us appreciate our common humanity.

In addition to these keynote sessions, we've filled each day with more than 70 timely, educational, and thought-provoking workshops designed just for you. We've listened to your feedback for more networking opportunities and new this year are Table Talk Sessions, where you can engage informally with your fellow colleagues on a topic of interest.

You are guaranteed to leave with a number of new ideas you can implement in your program immediately, plus an expanded circle of peers and insights to help you grow professionally now and into the future.

Parking: Attendees are encouraged to park in the RiverCentre Parking Ramp which is located on Kellogg Boulevard and offers skyway access to Saint Paul RiverCentre. Click here for more information on parking and directions.